Okay, girls I'll call the shots today and ask the question!! I always leave it up to you guys. So here's a project. What's dinnertime like at your house? Here is dinnertime at Dianna's LOL. My dinner consisted of some fries and icewater. Are you jealous? Anywhoo, this is what I have to endure when I sit down to eat and what I look at while I eat. Can you say Drool?????? :) I don't think I have seen a hotter man in all of my life.
The first couple are of my babies. They follow me everywhere!!! So when I eat, they beg and beg and these are a couple pics of them, doing what they do best!
Ya like my Andy Warhol, pop art lookin table cloth :P I love it!
Here's Claire trying to sneak on the table. God love her heart!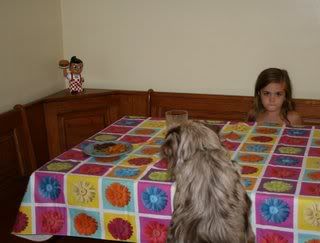 The next one is of my view when I eat. Doesn't look like much a door. Oh wait, below is the close up. Swoooooooon :) hot hot man!
Thank you aunt Sandy for that calendar! I have waited all year for August. Not cause of my birthday or anything, but because of my calendar pic!!
Below I wasn't giving my lil puppy any food, so she decided to jump on the bench with me!!
Isn't she sweet?? My dogs are so special to me. They melt my heart!! And are so kissable!! :)