It's early. Savannah got up early so that means mom has to get up early.
OOF, I so did NOT want to get up.
The week this week drug on very slowly. Next week will go by quickly because I have a million and one things to do.
My boys are a mess, an absolute mess. Both of my boys are cute and are at the age where girls are coming into the picture.
For my youngest son, I had no clue at the rate they would be coming into the picture. I am betting when school starts it is going to be that much worse. Phone rings constantly, emails constantly. Oye. I have a long road.
He asked me to take some pics for his myspace page. Keep in mind he's 12 soon to be 13. I tell him to go get on some nice clothes for his pictures. He comes out with no shirt on and rhinestone hearts on his um nipples, for lack of a better word. I look at him and say "What on earth are you doing" He said "Obviously starting a fad" then out the door walks Savannah in the same attire. I tell him to go inside get a shirt on and come on. He then said "Aw, I have to remove my pasties?" How does a 12 year old know about pasties? He would never of heard it at home. Never, ever, ever. So what I wanna know is how he knows what they are? Anyways, that threw me for a big loop and I should've gotten a pic of that to use later in life.
I took a few pics of him for his page and took some of Anthony, but Anthony didn't like his. They are both so different it's unreal. Gonna post some pics of them.
Here is Anthony with some basketball players! Makes him look short but he's tall LOL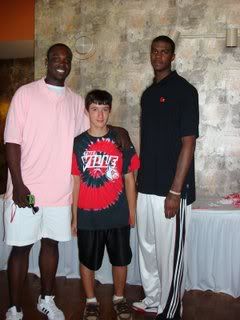 Here's the one Juan wants for his Myspace. Lets just give an eyeroll, but he said the ladies will like that one???????? The ladies, will like that one?????Ladies???? So, all of my family that has myspace, add Juan to your list!! Keep a close eye on that one!
6 short years ago, they were this. From these sweet boys to pasties. Sigh
Happy Saturday!