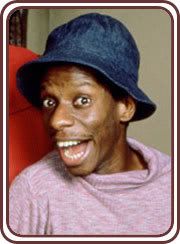 Okay, For future reference, I will keep in mind, when having an obscure dream, it's best just to keep it to yourself....
We have all had intimate dreams at one time or another...Mine just happened to involve Jimmy Walker and when I looked at him, there was the teeth, and he said DYNOMITE. I woke up out of a dead sleep after he said that. It freaked me out. Of all people to come be in my dream, Jimmy Walker....It's understandable when it's Brad Pitt or Hugh Grant. I have been teased and teased over the past few days about my um dream choice. Thank you for all the kind words and pictures. Some are very creative with their art work. Don't forget, I have photo shop and I'm not afraid to use it.....
Have a happy Tuesday....Have a DYNOMITE Tuesday...
Love,
The new Miss Jimmy Walker =) LOL
Di