Barf. First things first, Juan is doing very well. Went up there last night and he has made a wonderful friend named Jerry. Juan's extremely worried about Jerry. Jerry's dad is in jail, his mom doesn't want him, so he's dropped off there because he is angry. :( Who wouldn't be angry. They have no place for him. Juan and Jerry were the only ones who were allowed up stay up late last night. All the other kids had their mattresses pulled to the hallway and had to sleep under watch. You know for just anxiety, my son doesn't belong there. But stupid insurance won't cover anything different, so what do you do. No one ever visits the other kids. No one. It's extremely sad.
I woke up this morning more CLEANING. UGH, this time I stripped the laundry room apart, cleaned out and organized the wardrobe in there. Not finished with that yet, it was a chore, so when I finish I'll share the pics in there. That was a HUGE job. I'm moving at a snails pace now. BUT I washed all the walls in the living room, stripped the wood floors, got under all the furniture. Cleaned behind and under everything in the room. Did my curio cabinet. Even cleaned the ceiling and all those beams. UGH. It's about time to start getting ready for the hospital. BUT...... Tomorrow I should be able to finish the rest. I even maintained the upstairs. Funny thing is, I do this once a week for the most part. Not under everything like I did today, but I can't understand how it's still dirty. Me and the mommy loop girls, literally ALL do this once a week. Before and after cleaning races and you know what. Racing really does motivate you to get it done. Today, I am racing with Annissa. We update through emails our progress. She is keeping me going, I am keeping her going. Whatever works and friends are the best in the world. Here's my living room all done!! I used some new stuff on the floors, made them shine, but they are slicker than snot! Oh and I have to keep pillows on the couch now, in the last pic it's dark but you will see Claire barking at the Little old man, She stands all day on the back of the couch barking and she's flattening my pillows ARGH!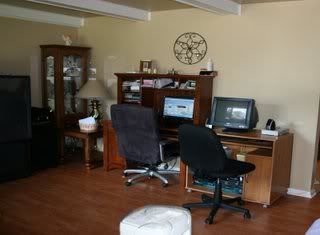 LOL Opies wakin up stretching, gearing to growl at Little old man walkin dog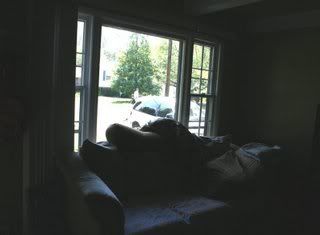 Above is Claire stretched out on the back of the couch growling at the man LOL she does what we call poodie Whistlling a mixture of barking and growling and yodling!
Happy Sunday