Is to stop depriving myself. I never do anything for myself and that's gonna change this year.
First stop on my list yesterday......To buy me a pair of RUNNING shoes =)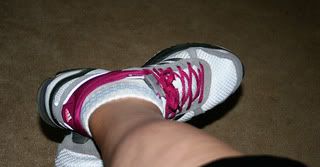 I have stuck with exercising for 2 years and it isn't leaving. I'm going to start street training for jogging this spring.
I can do over 6 miles in the gym.......With all my weight loss and with my sticking with it.....Reward =) Shoes!!
I love them and yesterday I did 1028 calories and almost 7 miles in those babies!!
YAY!!!!!!!!
Love,
~Me